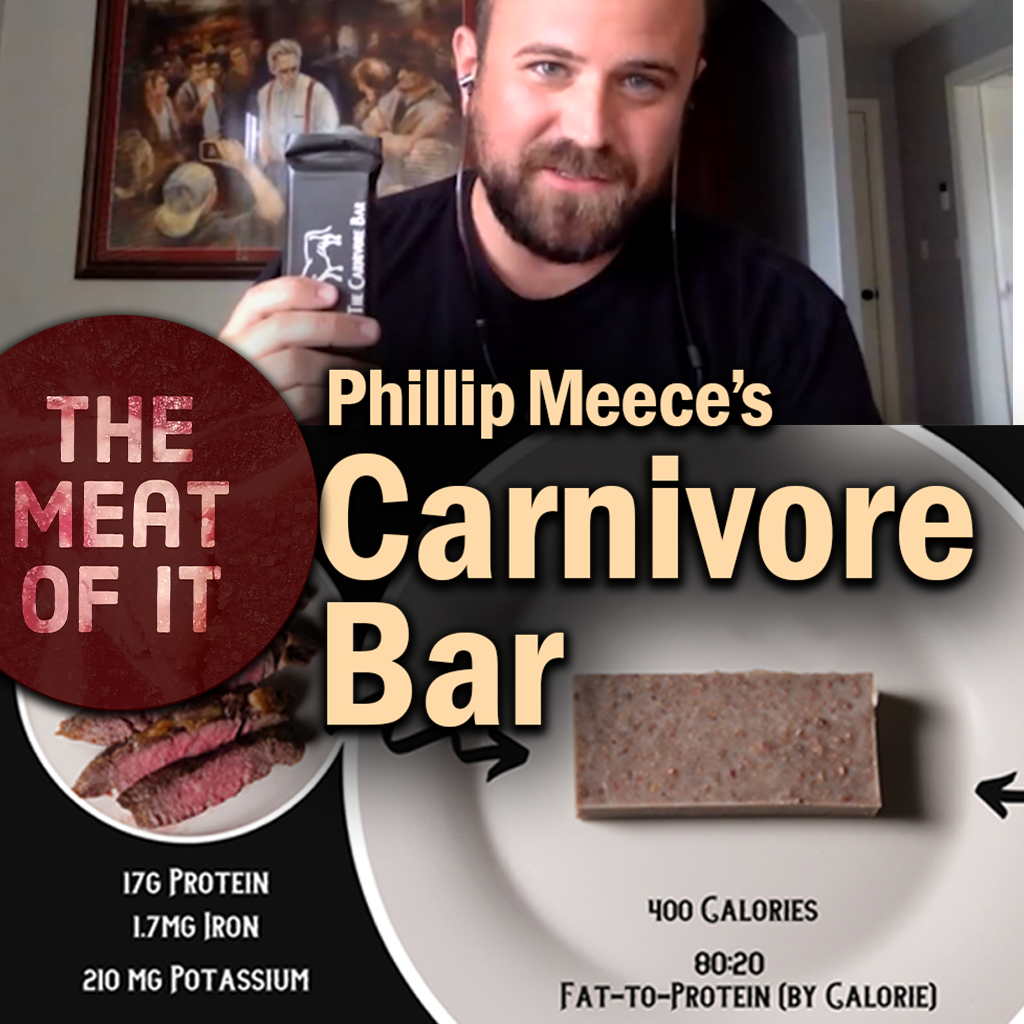 Phillip Meece created the Carnivore Bar: a convenient, high-fat snack or meal replacement made with pure beef! (Sea salt optional.) His mission is to make high-energy, whole-food, animal-based nutrition more portable for even the strictest carnivores among us. It's one of my favorite products!
A United States Army veteran, Phillip served as a combat medic in Afghanistan. His experiences with food and health in that environment ― along with his childhood in Mongolia ― have led him from health to sickness and back again.
In this free-flowing chat, Phillip and I discuss his life, his work, and the history and future of natural health through lifestyle. And since he's a medic, Phillip drops lots of truth backed up by SCIENCE!
You can support Phillip's work ― and get some Carnivore Bars for yourself ― at https://carnivorebar.com/.
Thanks for watching or listening, and see you again soon!
Michaelanthony
For $25 in FREE MEAT for your 1st order from Crowd Cow, visit: http://cc.themeatofit.com. $25 of high-quality, local meat will then be shipped to me, as well. Let's support small, local, sustainable, and humane ranches and farms. Thank you!
Special thanks to my supporters on Patreon!
🚀 http://odysee.themeatofit.com/
🎧 http://podcast.themeatofit.com/
🥊 http://rumble.themeatofit.com/
🥓 http://paypal.themeatofit.com/
🍖 http://patrons.themeatofit.com/
TIMESTAMPS
00:48  Phillip's childhood in Mongolia as the son of missionaries, and how their traditional fatty animal foods improved his health.
2:25  Returning to the USA at age 10, gaining excess weight and suffering from asthma, allergies, and more.
2:41  Starting CrossFit, eating a Paleo diet, and experiencing major health improvements during college.
3:17  Graduating into the Great Recession and trying to maintain this new, healthier lifestyle.
5:08  Joining the military as a medic to stay fit, but finding the lifestyle unexpectedly unhealthy.
11:17  The Carnivore Bar as a solution to the problem of  finding high-quality, shelf-stable nutrition, even for some of the most sensitive people out there.
17:41  How the tradition of pemmican helped to shape the Carnivore Bar.
22:00  The art and science of selecting and rendering fat from different parts of the animal.
24:57  Balancing complex knowledge and pragmatic simplicity in communication and life.
26:21  The Carnivore Bar's high standards, and why a processed-food development company could NOT improve upon it!
29:12  How the science behind a carnivore-diet  can recontextualize highly-politicized issues like climate change, and even what is considered essential to life.
35:09  Chewing the fat about fat!
40:16  The Carnivore Bar's higher-protein and honey versions, available for pre-order for a limited time at https://carnivorebar.com/product/high-protein-box/
40:37  Phillip recommends Carnivore Snax as an alternative to processed jerky.
42:33  The true value of the Carnivore Bar as a reliable source of clean nutrition; securing an animal-based lifestyle in today's uncertain world.
50:33  Corporate and government narratives, so-called conspiracy theories, and making sense of the current sociopolitical climate.
54:15  Topsoil, land quality, and the future of agriculture.
56:57  Scientific arguments supporting keto and carnivore lifestyles.
01:01:02  Phillip and I discuss our artistic backgrounds and how they affect our lives.
01:02:28  The impact of health on one's entire existence, philosophically and practically.
01:05:21  Why quality is more important than quantity in every area of life.
01:09:19  The prevalence of misinformation around meat and its impact on health and the climate.
01:09:51  Unhealthy versus healthy fats and their impacts on diabesity.
01:14:34  A pragmatic approach to measuring health.
01:16:10  The modern demand for convenience and its impacts on nutrition.
01:19:05  Seed oils/vegetable oils and the history of monopolies milking profits from industrial waste.
01:26:26  Liberty, the human spirit, and the future of meat!
01:29:17  Phillip's thoughts on crypto ― and why he had to reluctantly stop accepting Bitcoin as payment.
01:31:25  Facing the truth and thinking for yourself in every aspect of life.
01:35:43  Phillip's initial hurdles starting the carnivore diet as a busy medic in 2018.
01:38:17  Outro.