A carnivore podcast about life, THE MEAT OF IT is a series of solo rants and unusual conversations hosted by Michaelanthony, an artist from NYC. Over 3 years into a 100% carnivore diet for better health ― on an individual and global level ― Michaelanthony shares his zero carb philosophy and everyday adventures with you and his guests. (The chats aren't always between two carnivores, but they're always between two freethinkers.) Animal-based nutrition saved Michaelanthony's life. Now he's sharing and learning as much as he can about the rest of life's unexpected truths. Let's do more than chew the fat. Let's get to THE MEAT OF IT!
Episodes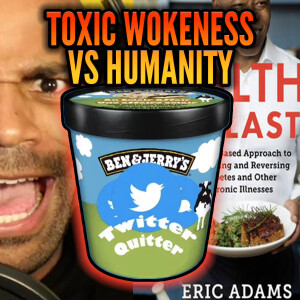 Wednesday Jun 07, 2023
Wednesday Jun 07, 2023
Here's how woke ice cream got me sick for several weeks—plus a deep dive into how Ben & Jerry's and the mayor of New York City are helping to destroy humanity from the inside out. Yes, it is a conspiracy!
I'm still recovering, so my voice is a bit scratchy at times. But it was worth pushing through the pain to get this message out.
Live free and thrive!
Recorded June 5 to June 6, 2023.

Video Version:
https://youtu.be/4ecsD1ha79k
https://rumble.com/v2snvnu
https://www.instagram.com/p/CtLMt84A97J

For 10% off of the Carnivore Bar and more, visit https://carnivorebar.com/ and use the code: MICHAELANTHONY.
For $25 in FREE MEAT for your 1st order from Crowd Cow, visit: http://cc.themeatofit.com 
#woke #truth #awakening #comedy #health #carnivorediet #meat #healthy #food #healthyfood #benandjerrys #icecream #junkfood #sugar #diet #fat #obesity #diabetes #chronicillness #mentalhealth #WEF #unilever #agenda #sick #sickness #disease #foodie #depression #emotionaleating #podcast